Vision Statement
Woodbank School believes that every child should have the right to a curriculum that champions excellence; supporting pupils in achieving to the very best of their abilities. We understand the immense value technology plays not only in supporting the Computing and whole school curriculum but overall in the day-to-day life of our school. We believe that technology can provide: enhanced collaborative learning opportunities; better engagement of pupils; easier access to rich content; support conceptual understanding of new concepts and can support the needs of all our pupils.
Purple Mash
As a school, we have chosen to use the Purple Mash Computing Scheme of Work from Reception to Year
6. The scheme of work supports our teachers in delivering fun and engaging lessons which help to raise
standards and allow all pupils to achieve to their full potential. We are confident that the scheme of
work more than adequately meets the national vision for Computing.
Please click the icon below for more information about Purple Mash: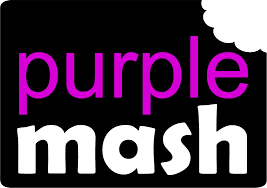 Online Safety
Online safety has a high profile at Woodbank School for all stakeholders. We ensure this profile is maintained and that pupil needs are met by the following:
A relevant up-to-date online safety curriculum which is progressive from Early Years to the end of Year 6.
A curriculum that is threaded throughout other curriculums and embedded in the day-to-day lives of our pupils.
Training for staff and governors which is relevant to their needs and ultimately positively impacts on the pupils.
Through our home/school links and communication channels, parents are kept up to date with relevant online safety matters, policies and agreements. They know who to contact at school if they have concerns.
Pupils, staff and parents have Acceptable Use Policies which are signed and copies freely available.
Filtering and monitoring systems for all our online access.
Data policies which stipulate how we keep confidential information secure.
Click the link below to see our:
Click the links below for our:
Brandlesholme Road, Bury, Lancashire, BL8 1AX
0161 761 1253
woodbank@bury.gov.uk